Stand with Ukraine. Save peace in the world!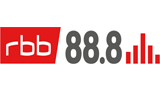 rbb 88.8
rbb 88.8 ist das Hörfunkprogramm für die Hauptstadt - Hören, was Berlin bewegt.
rbb 88.8 reviews
Sehr gut!

Dominik Reinicke

04.07.2019

Sergut Radiosender Liebe Grüße aus Moers NRW lg Dominik und DJDominikR2015Official

Carlos Granados

04.11.2018

Me ayuda aprender su idioma.
Radio contacts
Tel.: (030) 9799 3 34 888
Fax: (030) 9799 3 34 069