Stand with Ukraine. Save peace in the world!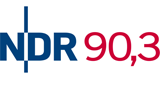 NDR 90.3 FM
NDR 90,3 bringt den schönsten Musikmix der Stadt. Gemeinsam mit dem Hamburg Journal informieren wir Sie über alles, was in Hamburg passiert - im Radio täglich rund um die Uhr
Show more
NDR 90.3 FM reviews
Der Wahlspruch "richtig gute Musik" ist eine krasse Fehleinschätzung. Von Bands/Interpreten, die regelmäßig laufen, gibt es fast ausschließlich die selben 2 - 3 Titel. Meist höre ich nur 15 Minuten, bis einer meiner absoluter Ätz-Songs läuft - Life is life, Lemon Tree, Daddy Cool, Don't worry be happy, No no never etc. Wenn man die Play-Lists vergleicht, sieht man, dass jeden Tag identische Songs laufen - derzeit Alvaro + Purple Disco Machine z.B. Wer das für richtig gute Musik hält, hat nun wahrlich keine Ahnung.

Daniel Mathier

11.07.2021

EXCELENTE RADIO, SIEMPRE QUE ESTOY EN HAMBURGO ESCUCHO ESTA RADIO, Y EN ARGENTINA EN MI CASA CUANDO PUEDO LA ESCUCHO POR INTERNET. FELICIDADES Y EXITOS.-

Super Toll

Peter Kienbaum

21.10.2020

Ich höre Euch sehr,sehr oft, und mag Eure Musik.Aber da ich 90,3 immer wenn ich kann aber am liebsten Sport und damit natürlich Lars. Keiner leidet wie er, wenn der HSV verliert und keiner freut sich mehr wenn der HSV gewinnt. Ich finde er lebt im Radio den HSV. Leider ist es nicht möglich ihn bei seiner Berichterstattung zu beobachten, DAA wäre sicher spassig. Lars bleib locker.mfg Peter Kienbaum

Dieter Kramper

07.01.2019

Ok

Zu wenig deutsche Weihnachtslieder. .Sonst ok
Information about the radio
NDR 90,3 ist ein Hörfunkprogramm des Norddeutschen Rundfunks (NDR). Es richtet sich vorwiegend an ein älteres Publikum. Zu hören ist ein Mix aus deutscher Musik, Oldies und internationalen Hits, dazu jede Stunde aktuelle Informationen aus Hamburg und aller Welt. NDR 90,3 definiert sich als "Gute-Laune-Radio" mit Reportagen, Interviews und Unterhaltung. Sonntags wird zwischen 6 Uhr und 8 Uhr die älteste, regelmäßig übertragene Sendung der Welt ausgestrahlt, das Hamburger Hafenkonzert.
Radio contacts
Fax: (040) 4156-3970