Stand with Ukraine. Save peace in the world!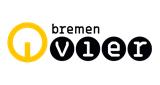 Bremen Vier
Bremen, 100.8-101.2 MHz FM
Eventorientiert und interaktiv für die jungen und junggebliebenen HörerInnen. Rocken, poppen, dancen mit den besten Hits der letzten 20 Jahre plus aktuelle News, Infos, Service und Programmaktionen. Mit viel Comedy, frech, frisch, lebensfroh, informativ, aktuell, kritisch und querdenkend, echt und authentisch.
Show more
Information about the radio
Bremen Vier ist ein Hörfunkprogramm der Sendeanstalt Radio Bremen für die Städte Bremen, Bremerhaven und angrenzende Teile Niedersachsens, das vornehmlich Popmusik sendet und auf Hörer von 14 bis 49 Jahren ausgerichtet ist.
Radio contacts
https://www.instagram.com/bremenvier/
https://www.youtube.com/user/BremenVier
Fax: 0421 246 4 12 00