Stand with Ukraine. Save peace in the world!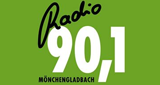 Radio 90.1
Mönchengladbach, 90.1 MHz FM
Radio 90,1 ist das Lokalradio für Mönchengladbach und die Region. Wir machen Programm für die Großstadt Mönchengladbach mit ihren 260.000 Einwohnern und für die Region. Radio 90,1 ist der Sender mit den aktuellen Themen aus der Stadt, mit Live-Übertragungen aller Spiele von Borussia Mönchengladbach - und mit dem besten Mix!
Radio 90.1 reviews
xxx

ich komme aus Indien und war einmal in Mönchengladbach für 4 Tage. Hatte dieses Radio Station für ein paar mal gehört und war verliebt.

Ich bin Mönchengladbacher natürlich höre ich Radio 90.1, was sonnst?

Der Radiosender hat ausgezeichnete Musik. LG Uwe aus Nürnberg Mittelfr. Bayern.

ballert

Radio 90.1 ist einfach coole