Stand with Ukraine. Save peace in the world!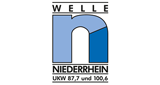 Welle Niederrhein
Krefeld, 87.7-100.6 MHz FM
Lokalradio für die Stadt Krefeld und den Kreis Viersen. 6 h tägl. Lokalprogramm, ansonsten Programm von Radio NRW.
Show more
Welle Niederrhein reviews
Hans-Armin Roeßing

07.05.2023

Hallo,

sehr gut

Wolfgang Roedel

06.02.2018

Klasse Sender
Information about the radio
Welle Niederrhein sendet sein lokales Programm werktags von 6 bis 10 Uhr ("WELLE NIEDERRHEIN am Morgen") und von 16 bis 18 Uhr ("WELLE NIEDERRHEIN am Nachmittag"). Am Wochenende wird lokales Programm von 9 bis 13 Uhr ("WELLE NIEDERRHEIN am Wochenende") gesendet. In der restlichen Zeit wird das Mantelprogramm von radio NRW übernommen. Die Nachrichten werden werktags von 6:30 bis 18:30 Uhr und samstags von 9:30 bis 12:30 stündlich gesendet. Die Weltnachrichten zur vollen Stunde, der Musiktitel und Werbeblock unmittelbar davor werden rund um die Uhr von radio NRW übernommen. Wie alle privaten Rundfunksender in Nordrhein-Westfalen ist Welle Niederrhein außerdem auch durch das Landesmediengesetz dazu verpflichtet, Bürgerfunk-Sendungen auf seinen Frequenzen auszustrahlen. Dabei handelt es sich um aufgezeichnete Sendungen, die von Menschen oder Gruppen aus der Region erstellt und produziert werden. Diese Sendungen werden abends ab 20 Uhr für eine Stunde ausgestrahlt.
Radio contacts
Hotline . 02151 / 506 - 02