Stand with Ukraine. Save peace in the world!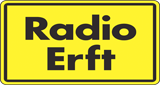 Radio Erft
100% die beste Musik.100% von hier. Lokalradio für Erft-Kreis.6 Stunden Lokalprogramm.Restprogramm und Nachrichten von Radio NRW.
Show more
Related radio stations
Show more
Information about the radio
Radio Erft sendet täglich 8 Stunden Lokalprogramm. Dazu gehört die Morgensendung "Radio Erft am Morgen", die zwischen 6 und 10 Uhr gesendet wird, und das Nachmittagsprogramm "Radio Erft am Nachmittag" mit dem Sendeplatz zwischen 14 und 18 Uh. Samstags sendet Radio Erft zwischen 8 und 13 Uhr und zwischen 18 und 21 Uhr Lokalprogramm, sonntags zwischen 9 und 14 Uhr(alle Zeiten ab März 2017 gültig). Bei der Sendung am Samstagabend werden Musikneuvorstellungen und andere Lieder, die sonst nicht im Programm laufen, gespielt. Außerdem lässt Radio Erft auf seinen Frequenzen gemäß den gesetzlichen Bestimmungen Bürgerfunk ausstrahlen. Diesen kann man freitags und sonntags von 19 bis 20 Uhr hören (samstags von 20 bis 21 Uhr). Das Restprogramm und die Nachrichten zur vollen Stunde werden vom Mantelprogrammanbieter Radio NRW übernommen. Als Gegenleistung sendet Radio Erft stündlich einen Werbeblock von Radio NRW. Zwischen 6:30 Uhr und 18:30 Uhr (samstags von 7:30 Uhr bis 11:30 Uhr und sonntags von 9:30 Uhr bis 11:30) sendet das Lokalradio zu jeder halben Stunde drei- bis fünfminütige Lokalnachrichten. Außerdem hört man auf Radio Erft während des Lokalprogramms zu jeder halben und zu jeder vollen Stunde lokale Wetter- und Verkehrsinformationen.
Radio contacts
Fax: 02236 / 888999
https://www.instagram.com/radioerft/