Stand with Ukraine. Save peace in the world!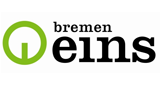 Bremen Eins
Radio für Bremen, Bremerhaven und die Region. Mit den größten Hits aller Zeiten. Informativ und unterhaltsam, aktuell und hintergründig, regional und weltoffen, kompetent und nützlich, frisch und freundlich, ehrlich und lebensnah.
Show more
Information about the radio
Bremen Eins ist ein Hörfunkprogramm von Radio Bremen. Die Welle entstand am 30. April 2001, als aus Kostengründen die Hansawelle und Radio Bremen Melodie fusionierten.
Das Programm ist für eine Zielgruppe von Hörern zwischen 40 und 60 Jahren konzipiert, womit es nach "oben" an Bremen Vier anschließt.
Radio contacts
Fax: 0421 246 421 98
https://www.youtube.com/channel/UCqPUi_Qteu12Mysjwz4HWeQ/featured