Stand with Ukraine. Save peace in the world!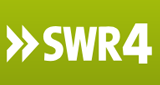 SWR4 - RP
Aktuelle Infos aus allen Regionen von Rheinland-Pfalz, Webradio, Stars im Studio, Rezepte, Gartentipps, Veranstaltungen, Verkehrsmeldungen, Comedy und eine Musikrecherche.
Show more
Information about the radio
SWR4 ist der Name zweier eigenständiger Radio-Landesprogramme des Südwestrundfunks: SWR4 Baden-Württemberg und SWR4 Rheinland-Pfalz.
SWR4 spielt als Musikformat hauptsächlich deutschsprachige moderne Schlager und Schlageroldies. Darüber hinaus sind internationale Evergreens, Instrumental- und Volksmusik sowie sonntags auch Klassik zu hören. 2004 lag der Anteil deutschsprachiger Lieder bei 86 Prozent.
Einen Schwerpunkt im Wortangebot legt SWR4 auf die Berichterstattung aus Rheinland-Pfalz und Baden-Württemberg. Zu bestimmten Zeiten werden Regionalprogramme ausgestrahlt. Außerdem sind auch Mundart-Hörspiele, Service- und Ratgebersendungen fester Bestandteil von SWR4.
Radio contacts
Fax: 0711/929-11300
https://www.instagram.com/swr4rp/