Stand with Ukraine. Save peace in the world!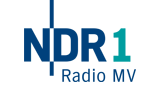 NDR 1 Radio MV
Über eine halbe Million Menschen hören täglich das Programm, NDR 1 Radio MV führt auch die Hitliste der öffentlich-rechtlichen Hörfunkprogramme in Deutschland an. Es steht auf vier Säulen: Regionale Kompetenz, Information, Service und Musik - das zeichnet NDR 1 Radio MV aus. Unsere Reporter in den Studios in Schwerin, Greifswald, Rostock und Neubrandenburg sind dran am Geschehen im Flächenland Mecklenburg-Vorpommern.
TOP songs on NDR 1 Radio MV
NDR 1 Radio MV reviews
Sven semrok (Sveni)

11.04.2022

Der Sender ist im Kabelnetz gut zur empfangen

Ich höre den Sender NDR 1 Radio MV sehr gerne. Es ist in NWM aber ein sehr schlechter Empfang im Radio und Auto Radio.
Radio contacts
Fax: (0385) 59 59 - 544