Stand with Ukraine. Save peace in the world!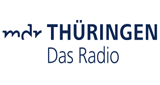 MDR Thüringen
MDR THÜRINGEN - das sind das MDR THÜRINGEN JOURNAL, MDR THÜRINGEN - Das Radio und MDR THÜRINGEN Online.
Show more
TOP songs on MDR Thüringen
MDR Thüringen reviews
Obwohl ich in Bayern wohne, höre ich täglich MDR Thüringen und vor allen Dingen die Musikauswahl gefällt mir besser als bei BR1

sehr guter Mix, gute Moderation.......selten Ben Zucker & Co.......
Information about the radio
Der Sender spielt vorwiegend internationale Oldies ergänzt mit 15 Prozent deutschen Schlagern. Zwischen 2010 und 2012 wandelte sich MDR Thüringen vom Schlager- zum Oldieradio. Gerüst der Programmstruktur sind die stündlichen Nachrichten zur vollen sowie Schlagzeilen und Regionalnachrichten zur halben Stunde. Inhaltlicher Schwerpunkt und journalistisches Profil des Senders ergeben sich durch eine starke Ausrichtung auf regionale Themen. Das Radioprogramm führt als Untertitel die Bezeichnung "Der Heimatsender". "MDR Thüringen – Das Radio" ist als Tagesbegleitprogramm konzipiert. Um eine hohe Hörerbindung zu erzielen, sind die einzelnen Sendungen an feste Moderatoren gekoppelt. Bekannte Moderatoren sind Johannes Michael Noack, Sina Waage, Matthias Haase, Peter Rüberg, Matthias Karpe, Frank Huber und Andreas Menzel. Programmchef ist Matthias Gehler, die Nachrichtenredaktion leitet Guido Fischer.
Radio contacts