Stand with Ukraine. Save peace in the world!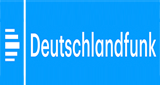 Deutschlandfunk
Cologne, 87.9-107.5 MHz FM
Deutschlandradio.de ist sowohl das Schaufenster der drei Programme als auch Informationsquelle für unsere öffentlich-rechtliche Rundfunkanstalt im Ganzen.
Show more
TOP songs on Deutschlandfunk
Deutschlandfunk reviews
Deutsch Sprache

28.09.2022

ich liebe deutschland deshalb lerne ich deutsch 😁 jetzt bin ich in b1 , ich höre immer lieder, filme und cartoons☺️☺️☺️

Ich liebe Deutschland und ich liebe deutsches Radio.......

Daniel Augusto Lopes

24.02.2022

Ich, Daniel Augusto Lopes, bin Student der deutschen Sprache in Guinea-Bissau. Ich mag das deutsche Radio sehr.

Sehr gute aktuelle Beiträge und Info - manchmal etwas politiklastig. Gut recherchiert und mit Abstand vorgetragen.

Cardoso da Silva

14.03.2021

gut, viellen gut

Heber Trinidad

25.02.2021

Ich heiße Heber Trinidad. Ich lebe in Mexiko, ich sende Ihnen meine Grüße.

Александр Белов

29.09.2020

Ich komme aus Russland und ich mag dein Radio sehr. Ich höre es gerne!

Sehr gut1!

Sehr gut

Gabriel Pereira

17.03.2019

Guten Abend Freunde, ich höre Ihnen aus Buenos Aires zu, heute habe ich dieses Radio entdeckt.
Information about the radio
Die thematischen Schwerpunkte des Deutschlandfunks heute sind einerseits Informationen und Hintergrundberichte, andererseits kulturorientierte Sendungen. Tagsüber stehen vor allem tagesaktuelle Geschehnisse aus Politik, Wirtschaft und Wissenschaft im Vordergrund, während danach die Kultur (Musik, Hörspiele, Lesungen, Berichte über kulturelle Themen) das Programm bestimmt. Demzufolge ist der Musikanteil am Tage verhältnismäßig gering, während er abends und nachts sowie am Wochenende etwa die Hälfte der Sendezeit beträgt.

Im Kölner Funkhaus werden teilweise auch Sendungsbestandteile für Deutschlandradio Kultur produziert. Das gesamte Programm des DLF ist frei von Werbung. Der Sender gehört zu den wenigen verbliebenen deutschen Rundfunksendern, die täglich die Nationalhymne ausstrahlen (in einem Streichorchesterarrangement, das auf Haydns Streichquartettfassung basiert, unmittelbar vor dem Datumswechsel gegen 0:00 Uhr). Seit Anfang 2007 folgt dabei auf die Nationalhymne die Europahymne.
Radio contacts
Fax: 0221 345-4802