Stand with Ukraine. Save peace in the world!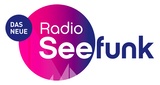 Radio Seefunk
Konstanz, 96,4-107,0 MHz FM
RSF - einfach die beste Musik! Radio Seefunk RSF ist das private Lokalradio für die Gebiete Bodensee, Hochrhein und Oberschwaben in Baden-Württemberg. Der Sitz des Senders befindet sich in Konstanz. Für den Werbezeitenverkauf hat Radio Seefunk Niederlassungen in Überlingen, Waldshut-Tiengen und Kressbronn.
Show more
TOP songs on Radio Seefunk
Radio Seefunk reviews
Andrzej Boryczko

28.04.2021

Super muzyka jak pracowałem przez 15 lat w Imenstaad am Bodensee słuchałem non stop tego radia tak go polubiłem że teraz słucham online w Toruniu pozdrawiam wszystkich prowadzących

super

Ständig wird der Verkehrsfunk eingeschalten, es gibt keine Verkehrsmeldungen aber dafür viel Werbung das als Sponsoring getarnt wird und somit voll legitim ist. Wenn man das dann anmerkt bekommt man gesagt man könne gerne Radiologie studieren dann wüsse man bescheid. Radiologie, die intelligente Dame bei Radio Seefunk wusste wohl genau wovon sie spricht.

Ich hab es echt mal gern und oft gehört, aber das war vor der Umstellung auf "das neue Radioseefunk".

HelmchenHamter

13.12.2019

WAR mal SEHR gut! WIEDERHOLUNGEN OHNE ENDE _ AUCH DIE MEINUNGSBILDENTEN Nachrichten!

Shnydley Wheaplish

06.08.2019

Prinzipiell ganz in Ordnung, nur hier genau wie bei vielen anderen Sendern (SWR1 etc.) wird immer wieder das Gleiche gespielt. Wieso nicht mal Abwechslung in die propagierte Abwechslung bringen, damit der Slogan auch nicht nur so daher geplappert wirkt. Apropos "daher geplappert"... Sarah nervt allmorgentlich. Warum muss so jemand ins Radio? Sie mag ja nett und all das sein, aber ins Radio gehört sie nun wirklich nicht. Und wie lange noch wollt Ihr Euch "Das 'neue' Radio Seefunk" nennen? So neu seid Ihr nach einem Jahr auch nicht mehr.

Karin Drescher

11.05.2019

Toll der neue Sender... endlich mal Musik am Stück ohne das einer dauernd dazwischen schwätzt...

Blue Splat 2 Pro Alter

09.04.2019

Prima, weiter So Leute! Tolles Konzept

peter schomber

20.02.2019

also der sender ist ja nicht schlecht aber wie bei anderen auch wiederholt sich die musik zu oft

Das alte Seefunk Radio war echt nur ein Rentner-Sender 😉
Information about the radio
Das Musikprogramm ist von einer Mischung aus deutschsprachiger und internationaler melodiöser Popmusik geprägt; der Schwerpunkt der redaktionellen Arbeit liegt in lokalen Informationen, wie dem täglich ausgestrahlten "Regio-Report". Daneben bietet der Sender auch stündliche Weltnachrichten und ausführliche Wetterinformationen. Die Programmleitung hat Stefan Steigerwald, Musikchef ist Eberhard Fruck. Moderatoren sind Friederike Fiehler, Sven Henrich, Nik Herb, Marc Moßbrugger, Vincent Schuster und Marvin Michl (Stand: September 2017). Der Sender gehört zu 46 Prozent zur Südkurier GmbH, aber auch dem Schwäbischen Verlag gehören Teile des Unternehmens.
Radio contacts
Zentrale (+49) 7531 28 65 0
Verkehrshotline (+49) 7531 28 65 28
Telefax +49 (0) 7531 286526