Stand with Ukraine. Save peace in the world!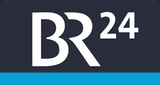 BR24
BR24 – Hören, wie es wirklich ist. B5 aktuell liefert viertelstündlich Nachrichten. Aktuell. Knapp. Präzise. Dazwischen bietet das Informationsradio Berichte und Reportagen, in denen die Meldungen hinterfragt und von allen Seiten beleuchtet werden. In Politik, Wirtschaft, Kultur und Sport – regional, national und international.
Show more
On the air BR24
| | |
| --- | --- |
| Live | Habeck sagt Dubai-Reise wegen Haushaltsberatungen ab |
| 02:01 | BR24 - Hier ist Bayern |
| 02:01 | FC Augsburg jetzt auf Platz 9 der Tabelle |
BR24 playlist
BR24 reviews
Robert Mitterwallner

06.04.2022

Die Kommentierung zum Champions-League-Spiel der Bayern in Villareal ist unterirdisch, da spanierfreundlich. Das ist nicht verständlich! Wie wäre es damit, die "eigene" Mannschaft moralisch etwas zu unterstützen?

Alexander Narvaez

10.10.2020

Sehr gut.

Sehr gut1!

Gabriel Pereira

26.03.2019

me gusta esta emisora, estoy aprendiendo aleman y los escucho desde buenos aires
Information about the radio
BR24 ist ein deutschsprachiger Hörfunkkanal und die Informationswelle des Bayerischen Rundfunks.
Prägend für die Programmstruktur der Welle sind vor allem die stetig wiederkehrenden Nachrichten alle 15 Minuten. Die Info-Blöcke zur vollen und halben Stunde sind auf eine Länge von 8 Minuten ausgelegt und werden von Redakteuren präsentiert. In diesen Info-Blöcken gibt es auch Korrespondentenbeiträge und O-Töne. Um XY:15 und XY:45 Uhr kommen fünfminütige Nachrichten ohne Einspielungen. Sie werden von Nachrichtensprechern verlesen. Die folgenden Minuten bis zum nächsten Nachrichtenblock werden mit verschiedenen vertiefenden Beiträgen zu bestimmten Themenbereichen nach einer Programmuhr gefüllt, so wird um XY:08 ein Block mit Nachrichten nur aus Bayern und XY:55 ein Block mit Sportnachrichten ausgestrahlt.
B5 aktuell überträgt ebenfalls ausgewählte Sportereignisse.
Radio contacts
[email protected]
Telefax: 089 / 59 00-18 59 00