Stand with Ukraine. Save peace in the world!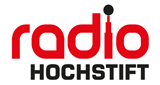 Radio Hochstift
Paderborn, 88.1-104.8 MHz FM
Hier hört man das Lokalradio der Region Hochstift Paderborn. Von lokalen Verkehrs- und Wetterberichten, über die neuesten Nachrichten bis hin zur bunten Musikvielfalt.
Show more
TOP songs on Radio Hochstift
Information about the radio
Das Lokalradio strahlt wochentags zwölf Stunden Lokalprogramm aus seinem Sendestudio am Frankfurter Weg in Paderborn aus. Vier Stunden davon nimmt die Frühsendung "Die Morning-Show mit Stefani und Sylvia" von 6 bis 10 Uhr mit Stefani Josephs und Sylvia Homann im Wechsel ein. Diese wurde wie bei allen ostwestfälischen Lokalradios am 1. April 2008 um eine Stunde erweitert. Darauf folgen die Strecken von 10 bis 14 und 14 bis 18 Uhr unter dem Motto "jeden Tag den ganzen Tag" / "immer gut zu hören", vornehmlich moderiert von Tim Donsbach, Verena Hagemeier, Sinah Donhauser, Benny Meyer, Dania Stauvermann und Susanne Stork. Zwischen 6:30 und 19:30 Uhr sendet Radio Hochstift die Lokalnachrichtensendung "Hochstift Aktuell". Am Samstag wird fünf Stunden Lokalprogramm ausgestrahlt, von 7 bis 12 Uhr. Am Sonntag sendet Radio Hochstift drei Stunden Lokalprogramm, nämlich von 9 bis 12 Uhr. Zu den Spielen des SC Paderborn 07, die in Einblendungen übertragen werden, gibt es ein "Radio Hochstift Extra".

Das Restprogramm einschließlich der Weltnachrichten zu jeder vollen Stunde liefert der Mantelprogrammanbieter Radio NRW. Als Gegenleistung sendet Radio Hochstift jede Stunde einen Werbeblock für Radio NRW.
Radio contacts
Fax (05251) 1737-65
Studio Höxter
Am Rathaus 5, 37671 Höxter
Tel. (05271) 680342
Fax (05271) 680340
[email protected]
https://www.instagram.com/radiohochstift/