Stand with Ukraine. Save peace in the world!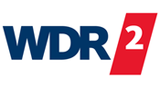 WDR 2
Mit schnellen Informationen, lebensnahen Themen, hilfreichem Service, Pop, Dance & Rock begleitet WDR 2 die Menschen im Westen durch den Tag.
Show more
On the air WDR 2
| | |
| --- | --- |
| Live | Alle Staus im Westen auch in der WDR 2 App |
| 18:04 | Alle Staus im Westen auch in der WDR 2 App |
| 18:03 | Stau-Nummer 0221 16 80 30 50 |
WDR 2 playlist
WDR 2 reviews
A progamação da rádio é ótima, parabens! E estou escutando para aprender a lingua alemã. Até final do ano que ja está falando e entendendo algumas. Um grande abraço para todos.

Elke Strate-Neff

10.04.2021

Es scheint, der Musikredakteur hat nur eine beschränkte Songauswahl zur Verfügung; permanente Wiederholungen einiger weniger Lieder (Wellermann, Jerusalema, letzter Tanz, Girls Like Us, Bey Bey - Vincent Weiss und nun sind Giesinger und Marc Forster hinzu gekommen) das nervt; sonst gut

BILLY TERZOPOULOS

10.12.2020

super

Musik ist nicht so meins, überwiegend weichgepülte Radio-Dudelmusik (Oerding, Giesinger und wie sie alle heißen)

Wdr2 find ich super

ganz super

Super weiter so ..

Guido Amschler

19.05.2019

'sonntags show' unbedingt abschaffen / ersetzen. Dünnpfiff Moderator für Dummpfiffe. Es gibt Sender welche sich sehr viel Mühe geben vor Allem Informationsmäßig, wie zB SWR Aktuell und andere. WDR2 macht es sich da wohl ganz einfach: Werbespots für Idioten, Endlosschleife Musik, und Sonntags vollkommen danebenes Moderator- gequatsche.Dann schon lieber WDR4, aber da fehlt die Information.

Stefan Bronstein

10.05.2019

i only see collors in my eye's i dont understand what you say with that.

Helmut Schüller

31.03.2019

Ausgewogene Musik, informativ, aktuell.
Information about the radio
WDR 2 ist ein Nachrichten- und Infosender, der dem Genre Adult Contemporary zuzuordnen ist. Das Programm ist tagesbegleitend ausgelegt, es gibt aber – insbesondere in den Abendstunden – auch Inhalte, die gezieltes Einschalten ermöglichen. Im Tagesprogramm bietet das Programm einen Wechsel aus Nachrichten, Pop- und Rockmusik der letzten 30 Jahre, aktuellen Beiträgen, Service sowie Unterhaltung. Der Wort-/Musikanteil liegt bei etwa 40/60. Das Programm enthält in der Regel Funkwerbung jeweils vor der vollen und der halben Stunde. Halbstündlich und bei Bedarf erfolgen Verkehrshinweise. Der aktuelle Claim lautet "Wir sind der Westen." Alternativ wird auch "Infos, die ich brauche.
Radio contacts
Fax 0049 (0) 221 - 567 89 220
https://www.instagram.com/wdr2/