Stand with Ukraine. Save peace in the world!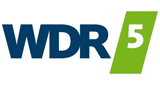 WDR 5
WDR 5 hat viel zu sagen. Vom frühen Morgen bis spät in die Nacht. Kompetenter Journalismus, gründliche Recherche, klare Kommentare. Wer WDR 5 hört, verpasst nichts, ist bestens informiert und kann überall fundiert mitreden, auch gerne bei uns im Programm. WDR 5 ist Radio mit Lust und Leidenschaft, mit Humor und Witz - und mit Kinderprogramm.
Show more
On the air WDR 5
| | |
| --- | --- |
| Live | WDR 5 Radio mit Tiefgang |
| 14:47 | WDR 5 Hotline: 0221-56789 555 |
| 14:47 | WDR 5 Radio mit Tiefgang |
WDR 5 playlist
Information about the radio
WDR 5 ist ein werbefreies Hörfunkprogramm des Westdeutschen Rundfunks Köln.
Der Sender zeichnet sich durch einen sehr hohen Wortanteil mit kulturellen, wissenschaftlichen und aktuellen Schwerpunkten in anspruchsvoller Umsetzung aus. Das kleine musikalische Angebot besteht zum größten Teil aus Folk, Soul, Chanson, Latin und anspruchsvoller U-Musik.

Daneben werden Hörspiele, Features, Servicesendungen und ein Programm für Kinder angeboten. Auch Unterhaltungs- und Comedy-Sendungen wie Streng öffentlich am Sonntagabend und Unterhaltung am Wochenende am Samstagnachmittag sind bei WDR 5 zu finden.
Aktuelle tagespolitische Themen werden in den Echo-Sendungen mit Hintergrundberichten beleuchtet. So beginnt der Sendetag mit dem Morgenecho (Mo–Sa 6.05–8.55 Uhr). Das Mittagsecho (Mo–Sa 13.05–14.00 Uhr, So 13.05–13.30 Uhr) und das Echo des Tages (täglich 18.30–19.00 Uhr) werden im wöchentlichen Wechsel mit NDR Info produziert. Ebenfalls im Wechsel mit NDR Info sowie zusammen mit WDR 2 werden die Berichte von heute (Mo–Fr 23.30–24.00 Uhr) produziert.

Stündliche Nachrichten (Mo–Sa zwischen 6.00 und 9.00 Uhr halbstündlich) ergänzen das tagesaktuelle Programm rund um die Uhr. In den Nachtstunden stammen die Nachrichten vom Norddeutschen Rundfunk.
Radio contacts
Faxline:0049(0)221 56789 550
Aktionstelefon: 0049(0)800 5678 555