Stand with Ukraine. Save peace in the world!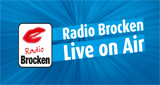 Radio Brocken Livestream
Die beste Musik für Sachsen-Anhalt! Das Infotainment-Programm für die ganze Familie in Sachsen-Anhalt. Musikalisch geht es mit Radio Brocken von den 70ern, 80ern und 90ern bis in die aktuelle Popwelt und die neuesten Charts.
Show more
Radio Brocken Livestream reviews
Information about the radio
Radio Brocken sendet seit 1992 ein Infotainment-Programm in Sachsen-Anhalt. Musikalisch bietet der Sender Titel aus den 1970ern, 1980ern und 1990er Jahren und den aktuellen Charts. Ergänzt wird das Programm durch Nachrichten, Werbung, Verkehrsmeldungen und Wetter.
Radio contacts
Telefax: +49 345 5258-150
https://www.instagram.com/radiobrocken/; https://www.youtube.com/user/RadioBrocken