Stand with Ukraine. Save peace in the world!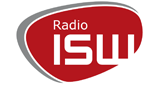 Radio ISW
Burgkirchen an der Alz, 90,4-106,4 MHz FM
Radio ISW ging aus einer öffentlichen Gesellschaftsgründung hervor, an der sich jedermann beteiligen konnte. Das führte letztlich auch zum großen pluralen Kreis von rund 30 verschiedenen Gesellschaftern, die sich zur "Inn-Salzach-Welle GmbH" zusammen schlossen. Die Volkshochschulen Alt-Neuötting und Burghausen gehören dazu, ebenso das Kreisbildungswerk Rottal-Inn-Salzach und der Bezirksverband Oberbayern der Arbeiterwohlfahrt.
Radio ISW reviews
josef bergmaier

25.02.2021

gut
Radio contacts
Telefax +49 (0) 86 79 . 98 27 - 30