Stand with Ukraine. Save peace in the world!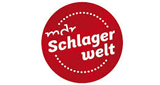 MDR Schlagerwelt Sachsen-Anhalt
Von Adamo bis Wolfgang Ziegler: Das Digitalradio MDR SCHLAGERWELT bietet 24 Stunden deutsche Schlagermusik an sieben Tagen die Woche. Ergänzt wird das Programm durch aktuelle Informationen aus der Welt des Schlagers und durch Nachrichten aus der "richtigen" Welt.
Show more
TOP songs on MDR Schlagerwelt Sachsen-Anhalt
MDR Schlagerwelt Sachsen-Anhalt reviews
Information about the radio
Zu jeder vollen Stunde übernimmt MDR SCHLAGERWELT Nachrichten, Wetter und Verkehrsmeldungen von MDR AKTUELL. Unter der Woche werden außerdem zu jeder halben Stunde Nachrichten aus Sachsen, Sachsen-Anhalt und Thüringen gesendet. MDR SCHLAGERWELT ist ein digitales Angebot des Mitteldeutschen Rundfunks, das via DAB+ und über Internetstreams zu empfangen ist.
Radio contacts