Stand with Ukraine. Save peace in the world!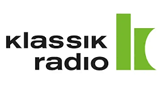 Klassik Radio
Augsburg, 87.6-107.5 MHz FM
Klassik Radio - das ist ein Mix aus den schönsten Klassik-Hits, der besten Filmmusik, den außergewöhnlichen New Classics sowie den entspannten Klängen der Klassik Lounge.
Show more
Related radio stations
Show more
TOP songs on Klassik Radio
Klassik Radio reviews
Guten Abend aus Griechenland. Qualitätsmusiksender!

This station would be perfect if it listed the title and BWV number of the works being played in real time.

Me encanta esta emisora. Hilda de Uruguay

super radio lov it

Léonard Le Forestier d'Osseville

19.03.2021

Ruhig und wunderschön

Emerson Vergara

28.12.2020

Desde Colombia. ¡¡¡ Bella música !!!

Noffie Morgner

28.05.2020

Super Radio! I Love it.

Wilson Roberto Spamer

31.03.2020

sim.

Mein Lieblingssender
Information about the radio
Klassik Radio bietet in erster Linie ein Musikprogramm, das durch halbstündliche Nachrichten sowie Neuigkeiten aus Wirtschaft, Börse, Medien und Kultur ergänzt wird.

Das Musikprogramm eignet sich sowohl als Tagesbegleitprogramm als auch zum bewussten Zuhören. Es setzt sich hauptsächlich aus klassischen Musikstücken, Filmmusik und den New Classics zusammen. Vollständige Werke der Klassik werden nicht gespielt, sondern vielmehr ausgewählte Sätze, die unmittelbar eingängig sind.

Am späteren Abend ab 22:00 Uhr wechselte bis etwa 2018 das Programm zur Lounge-Musik, d. h. Nu Jazz, Downbeat, Chillout, Ambient, World music etc. Das Programm gestalten DJ Nartak, das Produzententeam Levitation, Lichtmond und Schiller.

Seit Mitte 2018 läuft nur noch die Rubrik "Classic dreams" nachts ab 22:00 Uhr. Dabei werden nonstop ruhigere Titel gespielt.
Radio contacts
Fax: +49 (0) 40 - 300 50 544