Stand with Ukraine. Save peace in the world!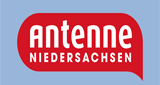 Antenne Niedersachsen
Mein Lieblingsmix im Radio. Die Hits von heute und die Antenne Greatest Hits. Aktuelle Nachrichten aus Niedersachsen, Deutschland und der Welt immer um 5 vor und jeden Morgen die Moin Show mit allem was man in Niedersachsen für den Tag braucht.
Show more
Related radio stations
Show more
TOP songs on Antenne Niedersachsen
Antenne Niedersachsen reviews
sehr gut

Spielen Tag für Tag fast das Gleiche ... Abwechslungsreich wäre zauberhaft ... MfG

Super

Юлия Демидович

06.09.2020

nice music and a bit of news

mjkluyyqa kysaqqvvyar

21.07.2020

alles schön und gut

Gut

super Sender

Simone Schwarz

08.05.2017

Ihr seit einfach Toll ...
Information about the radio
Antenne Niedersachsen ist ein privater Hörfunksender aus Hannover mit dem Sendegebiet Niedersachsen, Bremen und Hamburg.
Antenne Niedersachsen sendet ein Musik- und Informationsprogramm. Das Musikformat Adult Contemporary soll vor allem die Zielgruppe der 30- bis 54-Jährigen ansprechen. Stündlich um :55 laufen auf Antenne Niedersachsen in Antenne Niedersachsen Aktuell Nachrichten aus Niedersachsen, Deutschland und der Welt.
Antenne Niedersachsen sendet die Nachrichten jeweils immer zur Minute :55, und damit fünf Minuten vor den anderen Radiostationen.
Drei regelmäßige Rubriken (Hits from Heaven, Kirche live in Niedersachsen und Bremen, Wer hat an der Uhr gedreht?) werden vom Evangelischen Kirchenfunk Niedersachsen für den Radiosender produziert und dort gesendet.
Radio contacts
Email: [email protected]
Telephone: 0511-9118-0
Youtube
www.youtube.de/antenneniedersachsen
Pinterest
https://de.pinterest.com/antennends/
Instagram
https://www.instagram.com/antenneniedersachsen/