Stand with Ukraine. Save peace in the world!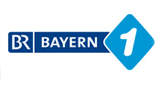 Bayern 1 Niederbayern und Oberpfalz
Bayern 1 ist ein deutscher Radiosender. Wir sind Kinder der 70er- und 80er-Jahre. Unsere Zimmer hatten orangefarbene Tapeten, wir saßen auf der Rückbank eines VW-Käfers, wenn es in den Italienurlaub ging. Dann haben wir unruhig auf die 36 Bilder unseres Kodak Gold-Films gewartet und uns mit Fernsehserien wie Magnum, Catweasel und Flipper amüsiert. Im Radio spielen wir die Musik der 70er- und 80er Jahre. Das heißt Wohlfühlen mit den Hits von Abba und Madonna, Cat Stevens und Elton John, den Eagles und Phil Collins.
TOP songs on Bayern 1 Niederbayern und Oberpfalz
Bayern 1 Niederbayern und Oberpfalz reviews