Stand with Ukraine. Save peace in the world!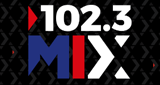 Mix 102.3
La mejor estación de música en Inglés de clásicos años 80´s, 90´s y lo más sonado de la actualidad, con información relevante, los variados shows en vivo y sucesos internacionales.
Mix 102.3 reviews
Radio Gemelas OFICIAL

17.03.2023

somos radio gemelas por las manana desde minesota para el mundo

Saludos desde la Blanca Merida

Roberto Lopez Arestegui

28.02.2021

SALUDOS DESDE TIJUANA ...102.3 MIX LA MEJOR...!

Ricardo Miguel

25.01.2021

La mejor musica....saludos desde Los Cabos

Omarín- Abogado y Perito

13.11.2020

Saludos desde Colombia; los felicito por la música.

Jose Alfredo Salgado

27.06.2020

MI OPINION DE ESTA MUSICA ES EXELENTE.

Xavier Zamora Rodríguez

30.10.2019

es la mejor mierda del mundo!

De por si amo Acapulco y poder escuchar una de sus radios me parece maravilloso y radio mix 102.3 es excelente, musica, comentarios y temas interesantes. Esta ok!!

VICTOR IRVIN RODRIGUEZ

18.03.2019

Muy buena música

Hace unos momentos estaba sintonizando su estación, de pronto la quería apagar como de rutina, y nunca se apagó, por más que le intentaba mamás nunca lo hizo, lo tuve apagar mi celular, mi sugerencia actualizen su página, es molestoso lo que me paso. La música es de lo mejor, la página no, es todo un asco, hasta para enviar un mensaje.
Radio contacts
https://www.instagram.com/mixfm_mx/