Stand with Ukraine. Save peace in the world!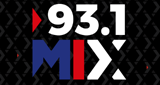 Mix 93.1
Escuchá en línea música POP en inglés de los 80, 90 y actual. Una estación de Grupo Acir. Conectando a Millones. XHYIFM
Mix 93.1 reviews
esteban Moreno

19.04.2023

Vaya "noticiero" con el chayotero que vive criticando Todo de AMLO . Vieras de hablar de los asesinados,embolsados que a diario aparecen en Cancún pero como tú amo te ordena solo criticar a AMLO pues' solo te queda moverte como buena meretriz.

christian arturo galaviz ramos

13.01.2022

Información sobre el casting en Cancún

Sacnite Baez Morelos

13.01.2022

Hola buena tardes me podrian ayudar con la información de las audiciones q habrá aqui en Cancún en la Av sayil se los agradezco de antemano

Ya cámbienle el nombre de panorama informativo a panorama anti amlo, diario le dedican tiempo a tirarle al presidente ya aburren, mismas 10 canciones y mismos comentarios todos los días , poca Ética y aburrido noticiero de las 6pm

Roberto Montes de Oca

05.08.2021

los escucho diario y aunque son la smismas canciones todos los dias a veces son entretenidos pero martin samano con sus comentarios todos los dias antiamlo ya fastidia preferible escuchar otro noticiero mas profesional

genial

Jajajajaa esos Regios dígales que vayan a Jalisco para que les enseñemos a respetar...

Excelente la escucho diario soy de huamantla Tlaxcala

Great music...

Leon Rodríguez

17.06.2019

Hola! De verdad me importa mucho el sábado dieron un anuncio q buscan un gerente en una gasolinera! Xfavor ayúdame dónde es, de verdad me ayudarías mucho...