Stand with Ukraine. Save peace in the world!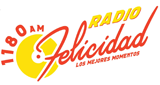 Radio Felicidad
Estación que brinda una programación que informa y entretiene al público, con el mejor equipo de conductores, ofrece las noticias, transmisiones deportivas, música con ritmos y estilos diferentes, sucesos internacionales.
Show more
TOP songs on Radio Felicidad
Radio Felicidad reviews
Clara de Patron

27.05.2023

me encanta- lo escucho diario, saludps desde sonora

Andres Salazar Gomez

16.11.2021

Las mejores canciones del recuerdo.

Filiberto Velazquez

10.10.2021

De niño escuchaba mucho esta estación

Guillermo Rivas

31.05.2021

Me encanta esta radiodifusora, me hace recordar cuando vivia en el DF (ahora CDMX) era mi compañera en mis dias de desvelo estudiando en la decada de los 80s en mi etapa universitaria. Saludos desde Sonora.

Lourival Cardoso

07.02.2021

UMA EXELENTE RADIO AUDIO DE QUALIDADE PROGRAMAÇÃO DE QUALIDADE;PARABENS;

Rodrigo Guzmán Segoviano

07.01.2021

Excelente selección musical

me gusta mucho <3

Excelente programación

Ruben Zambrano

29.12.2020

Buenos dias para ustedes feliz año nuevo gracias por su programación

Angelino Bounarotti

14.10.2020

Muy bonita la romántica programación. Saludos desde mi bello estado de Veracruz.
Information about the radio
Escucha en línea la mezcla musical perfecta de éxitos en español del Rock and Roll de los 60 y las décadas de los 70 y 80 en español. la época dorada del Rock and Roll, más una variada y original selección de éxitos de las décadas de los 60, 70 y 80 en español. Una estación de Grupo Acir. Conectando a millones.

XEFR-AM is a radio station in Mexico City. Located on 1180 kHz, XEFR-AM is owned by Grupo ACIR and broadcasts an oldies format known as Radio Felicidad.

Radio Felicidad received its concession in 1952 and came to air in 1963.

In the 1990s, the station became rock-formatted Óxido 1180. That format was ditched in 1998 in favor of sports talk as Superdeportivo 1180; it lasted just months, before Grupo ACIR decided to flip the station to its regional Mexican La Comadre format (which returned to Mexico City in 2015 on XEL-AM 1260). This, too, did not last long, before the Radio Felicidad name and format, which had been associated with the station in its early days, was restored.

XEFR is the official radio station of the Diablos Rojos del México baseball team and carries their games.
Radio contacts
https://www.instagram.com/radiofelicidadmx/