Stand with Ukraine. Save peace in the world!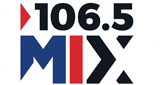 Mix 106.5
Mix 106.5 FM - La mejor estación de música en Inglés de clásicos años 80´s, 90´s y lo más sonado de la actualidad, con información relevante, los variados shows en vivo y sucesos internacionales.
Show more
Mix 106.5 reviews
Rosangel Guadalupe

02.06.2023

les recomiendo una estacion de radio que es iHeartRadio Pop 95.5

Elizabeth Ibáñez Ramírez

23.05.2023

!¡¡Excelente Mix 106.5!¡ la escucho durante mi jornada de trabajo, desde Villahermosa,Tab.Mex.

LO MEJOR de lo mejor.MIX 106.5 MIX FM LOS escuchó desde Wilkes barre Pensilvania

VUEVAN 103.1

Hola feliz de escuchar Mix 106.5 y mas con la voz de todos los mejores años. Ya decía yo desde que puse está emisión algo me llamo la atención, no podría ser no lo creía es "Charo Fernández" dije será? Indague en todos lados y si en mi stirtt me lo confirmaron gracias por volver.

GRACIAS POR LA EXCELENTE, Y LA MEJOR PROGRAMACION DE MUSICA EN LA RADIO.

christian fiore

17.08.2022

excelente emisora saludos desde Colombia

Muy buena estación me hace recordar a W FM 96.9 con charo Fernández martin delgado y Alejandro Iñárritu y martin Hernández

excelente musica para mis oidos

excelente ♬ música para pasar super mi dia
Information about the radio
XHDFM-FM is a radio station in Mexico City. Broadcasting on 106.5 MHz, XHDFM-FM is owned by Grupo ACIR and broadcasts contemporary music in English from the 1980s to the present under the name 106.5 Mix.

The concession for 106.5 MHz in Mexico City was awarded in 1964 to México Radio, S.A., for XHMR-FM. Not long after, the station's callsign was changed to XHABC-FM, reflecting the station's then-common ownership with XEABC-AM 760. The station was sold to Fórmula Melódica in 1977 and the callsign changed to the current XHDFM-FM. Fórmula Melódica, owned by the Guadalajara-based Ondas de Alegría group, broadcast romantic and ranchera music in Spanish until 1981, when it became "La Nueva Onda" and changed its format to ballad music. The station moved studios in 1985 after its previous facilities were heavily damaged by the 1985 Mexico City earthquake.

In 1986, Ondas de Alegría was dissolved and Grupo ARTSA took over operation. The station's name was changed again, to "Stereo Amor", and then in 1992 to "Amor 106", both times with a romantic music format. In 1995, XHDFM and its sisters were sold to Grupo ACIR, who changed the station to its current name and format, which had been created a year earlier on XHSH-FM.
Radio contacts
https://www.instagram.com/mixfm_mx/