Stand with Ukraine. Save peace in the world!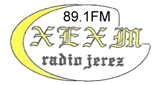 Radio Jerez
Jerez de García Salinas, 89.1 MHz FM
Una estación de radio del Grupo Radiofónico Zer. Transmite desde Jerez de Garcia Salinas, Zacatecas en la frequencia 89.1 FM. En la Radio Jerez puedes escuchar la mejor música mexicana, noticias y programas más diferentes.
Radio Jerez reviews
Buenos tardes Karina me mandas saludas al cachetes aquí en fiesta market con la canción de ya me arto el hijo de la chingada de los inquietos que se ponga a trabajar y no se ande pasiando

Nico saludos a Karina Horta y su esposo soy Alejandro Quezada saludos desde Denver colorado

Hlriioohila Rortiz

22.03.2023

Muy buena música saludos a toda la gente de ciénega en especial al vaquero saludos para las trabajadoras de productos lácteos que hacen el mejor Queso

SALUDOS PARA DINORA Y ARMANDO DIAZ LOS ESCUCHAMOS DESDE LOS ANGELES CALIF-

my frend un saludo para la ermita de guadalupe y para rocha company departe de manny

saludos para la familia roman de santa rita

Saludos para la familia ruiz del rio con jasinto el tuerto

El gremio de salud por años a trabajado con las miserias que les dan y con eso hacen lo imposible para dar la mejor calidad de atención , pero l gente se pasa criticando sin saber , ignorando cuál es el la realidad y todo por el mal gobierno y gracias a nuestra líder por estar siempre al pie de lucha todos los días

Omar Garcia Regis

11.05.2022

Apoyo total a los trabajadores de la secretaría de salud

Siempre al pendiente de la base trabajadora lic norma