Stand with Ukraine. Save peace in the world!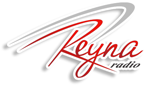 Radio Reyna
Dolores Hidalgo, 96.3 MHz FM
Estación de radio que transmite una cuidada programación con espacios de carácter musical, informativos, momentos dedicados a labores educativas y culturales, todo ello cada día en amplitud modulada y en línea.
Show more
Radio Reyna reviews
Hola buenas noches me puede complacer con la cancion de bye

Quiero mandar un saludo a angelita Sofía de San Antonio del Gallinero que hoy esta cumpliendo años de parte de su tía y su abuelita Florencia con la canción de peso pluma la bebé

Sandra Colchado

29.05.2023

Saludos a mi mamá Lupe Gutiérrez que anda en su trabajo trabajando muy duro. De parte de su hija SANDRA Colcahdo

Keyla Castillo

27.05.2023

Un saludo para peñuelas desde Atlanta

Un saludo para Albert García y sus tío gus y José Luis de la chole que está trabajando en norte carolina USA, me puedes poner la canción agonía, en norteña por favor

Saludos a cholo y cuquis que ya no quieren trabajar diles que todavia son pobres

GH Construccion y Diseño

18.05.2023

DESDE LA ADMINISTRACION DE LA COMPAÑIA DE GONZADO, PARA LOS COMPAÑEROS, MENOS SALUDOS Y MAS TRABAJO :D

fermin Gutierrez

18.05.2023

Un saludo pa Javier Ayala q no invita las cervezas

Un saludo para los chirroqueros de san Antonio Texas

Un saludo para catalina colmenero de parte de su ijo disde Atlanta georguiA
Information about the radio
XHEJE-FM is a radio station on 96.3 FM in Dolores Hidalgo, Guanajuato. XHEJE carries a full service format known as Radio Reyna.
XHEJE began as XEJE-AM 1370, with a concession awarded on June 18, 1964. It was a 500-watt daytimer owned by Luis Ríos Castañeda. In 1983, the Reyna brothers got involved for the first time with the transfer of the station's concession to Alejandro Reyna García. Ten years later, it was transferred to Guadalupe López Montellano, and finally to a company owned by both families in 2000.
Radio contacts
Teléfono Cabina: (418)182-04-13