Stand with Ukraine. Save peace in the world!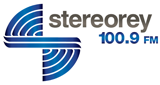 Stereorey
Aguascalientes, 100.9 MHz FM
Viajamos a través del tiempo desde los clásicos años 70´s, 80´s, 90´s y las nuevas décadas de los 2000´s, todo en un nuevo concepto. Stereorey 100.9 "La nueva música pop y la más clásica música pop".
Stereorey reviews
Cadáver Xquisito

17.04.2023

Cuáles son las dinámicas para ganar accesos especiales para Rod Stewart?? Soy gran fan de este inigualable artista y tuve oportunidad de asistir al concierto en la ciudad de Querétaro allá por el año de 1989.

Cocinando, Comiendo y Viajando Alx presenta

15.03.2023

Están poniendo unas rolas buenísimas 👌🏼👌🏼👌🏼 saludos a la banda y para todo el hospital 1 del IMSS

Mario Barcenas

02.03.2023

Saludos.escuchando está súper estacion

Mi esposo es fanático de Guns 'n Rose y me encantaría participar y ganarme los boletos para darle la sorpresa.

Erick Ocampo Pcshop Ags.

26.09.2022

#stereorey 100.9 FM, vámonos a Guns ´n Roses

Jacinto Terrazas

20.09.2022

Excelente programación, canciones que te transportan en el tiempo, simplemente la Mejor estación de radio...

Omar Plascentia Garcia

27.08.2022

weezer say it ain't so puedenn tocar Weezer por favor ?? Escuchando la.mejor en aguascalientes!!! Saudos para toda la Bella gente que trasmita 100.9 fm!!! De parte de la family plascencia garcia!!!

Excelente programación, Saludos desde Poza Rica, Veracruz, Roberto Figaredo

Adrian Huitrón

25.07.2022

exelente programacion, saludos desde mexicali

VUELVE A MONTERREY. DONDE EMPEZASTE STEREOREY . VUELVE AL 92.5 DE LA BANDA DE F.M. trasmitiendo desde Balcones del Carmen, Monterrey, N. L. Mexico.