Stand with Ukraine. Save peace in the world!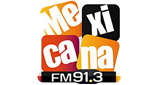 La Mexicana
Aguascalientes, 91.3 MHz FM
La Mexicana 91.3 FM, es la emisora líder en su formato en el centro del país, transmite las 24 horas desde Aguascalientes. su programación consta de música mexicana, de banda, norteña y por las noches boleros, ademas de los programas de noticias y policíacos mas escuchados en la región, también transmite Fútbol y Beisbol.
La Mexicana reviews
Guillermo Torres

02.03.2023

Saludos desde Tijuana Baja California

Kostas Pritsis

21.06.2022

Many Greatings from Atenas Grecia.....I hear you every day!!!!

Jesús Rodríguez

26.02.2022

Hola buenas noches, escuché que habían reportado una cartera con papeles de una persona de Estados Unidos

Lissy Rodriguez

02.06.2021

Ese Luis Armando tampoco es buena opcion para Aguascalientes como tampoco Gabriel Arellano ,puras marihuanadas

Soy locutor de radio aquí en Paraguay...me encantan las canciones que pasan..,pasen algo del grupo azteca...,talvez seas tú !! Saludos desde Oviedo Paraguay ..! Viva México

Alfonso Huerta

03.08.2020

Excelente

Chuy Rodríguez

15.07.2020

Me encantan las noticias con Lucerito, pero creo que es exagerado el tiempo dedicado a publicidad, ya que prácticamente por cada 5 minutos o menos de noticias realizan cortes de hasta 10 minutos para publicidad, así que tengo que cambiar de estación en lo que regresa Lucerito.

JESUS ISABEL HERNANDEZ A. P. 2020

17.05.2020

¡EXCELENTE, EXCELENTE!

Martín Limantour

12.05.2020

UN FAVOR A LA CIUDADANIA, PROCUREN LAS PERSONAS QUE NO HAN QUERIDO GUARDAR CUARENTENA, CUIDARSE Y CUIDAR A OTROS. TRATEN DE NO SALIR SI NO ES NECESARIO. SINO CREEN EN EL COVID, HAGANLO AL MENOS PARA QUE EN 8 MESES REGRESEN LOS EVENTOS MASIVOS A PARTIR DE LA FECHA QUE SE LEVANTE ESTE ENCIERRO. SINO OLVIDENSE DE LA FNSM 2021, CONCIERTOS BAILES CORRIDAS DE TOROS. HAGANLO POR ESO. Y SOBRE TODO EL REGRESO A CLASES.

Saludos a doña lupita de parte de su nieto jorgito