Stand with Ukraine. Save peace in the world!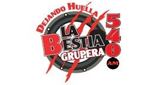 La Bestia Grupera
La Bestia Grupera - XEWF is a broadcast radio station on the Radiorama group of radio stations from Mexico City, DF, Mexico providing Mexican Grupera, Tejano, Balada and Ranchera music.
La Bestia Grupera reviews
Doña juana del grupo HN please

Claudia Alcantara

11.06.2019

muy bonitas las canciones romanticas que recuerdos felicidades sr valdez nos lleva a recuernos inolvidabes saludos

Armando Valadez

06.06.2019

Muy buena programación del locutor Valadez

Gaby Murga Flores

31.05.2019

Gracias por los saludos 👍🏼👏🏼👏🏼👏 Felicidades Valadez 😀👋🏼

Ruth Maldonado

30.05.2019

Sus canciones son inolvidables, muy buenas y muy buena programación

antonio hernandez

15.05.2019

muy buena

Norberto Julio Vargas Gutierrez

10.02.2019

Hola buenas tardes excelente programación,los escucho desde Toluca la Bella todas las tardes,.le envío un cordial saludo para la Sra Hermosa,Linda y encantadora ,la Señora Mary.

Adrian Espinoza

01.01.2019

que paso con la transmicion ?