Stand with Ukraine. Save peace in the world!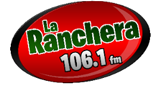 La Ranchera
Aguascalientes, 106.1 MHz FM
Emisora mexicana que transmite espacios variados de entretenimiento, información y shows en vivo, desde la que se promueven valores culturales de México, ofreciendo toda la música ranchera, información variada y las noticias relevantes las 24 horas.
La Ranchera reviews
Juan Jose Gomez

09.01.2022

Fejen la escucho promero pero se parrce a la ranchera 930 de los angeles cali era mi preferida y la quitaron

Mauricio González

24.11.2021

Hola mi compa felicidades por su radio un cordial saludo desde Chile región del Maule Talca

Jesús Ramírez Martinez

27.08.2021

Saludasos. Aturito. A. Todos. Los. Austin. Texas. Con. La. Cansion de. Antonio. Aguilar. Ya. Biene. Amanesiendo

saludos estamos escuchando su programación muy buena música saludos a todos los locutores en especial a monica rodriguez muy buena conductora. gracias me gustaría escuchar una canción se llama NO TE VAYAS TODAVIA con maria leon y mijares

buenisima programación. saludos Arturito. ayuuu

Saludos yarenmi Estefaní franco Méndez de parte de su papa

Alma Dinerera Poquito

13.02.2021

Chulada des de Livermore ca saludos ala raza de tlachichila Zacatecas!!!!

Esta radio difusora es la #1

Desde colombia departamento de santander municipio california .... que buena musik lo mejor y si pudiera yna cancion quisiera saber carin leon

Chulada de programación que tienen saludos desde Los Angeles C.A