Stand with Ukraine. Save peace in the world!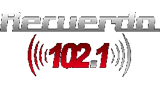 Recuerdo
XHOMA-FM is a noncommercial radio station in Colima, Colima, licensed to Comala. Broadcasting on 102.1 FM, XHOMA carries a music format known as "Recuerdo 102.1" which is operated by Grupo Radiofónico ZER.
Recuerdo reviews
Maria Guadalupe

09.02.2023

Excelente estación,saludos desde Hemet California

Sergio Camarena

19.11.2022

Muy buena estación la mejor canciones de José José por favor

Eduard Nov Esk

23.03.2022

seia bueno que aumentaran la calidad del streaming a unos 128kbps por lo menos ya que se escucha mal, pero sin duda la musica es buenisima me gusta mucho!!

Elizabeth Avila

23.09.2021

Buenos días... ¿qué pasó con el noticiero Zer Informativo?

Ramón González García

22.09.2021

1.- Y los noticieros ??? desde el vienes anterior (17) no se escuchan

Me gusta mucho esta estación, una pena que ya no se escuche por tunein

Enrique Borjas

08.03.2021

Gracias se escucha bajito

Juan Francisco Aguilar Vazquez

03.03.2021

Muy buena programación solamente que se escucha muy bajito, pero de ahi en más todo bien.

Juan Jose Castillo

10.06.2019

Excelente programación!!