Stand with Ukraine. Save peace in the world!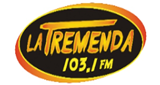 La Tremenda
Radio de Zacatecas que propone una serie de espacios cotidianos de variados contenidos para complacer las preferencias de los oyentes, con notas informativas, lo último de los artistas más destacados y los mejores éxitos musicales del momento.
Show more
La Tremenda reviews
Eladio Santiago del Angel

19.05.2023

Quiero mandar saludos aquí por zacoalco de torres Jalisco para la señora María Campos Martinez para el señor Gregorio Cruz Duran que en estos momentos ya va para vender los elotes y para todas sus hijas que la escuchan en la calle Allende 221 de zacoalco de torres Jalisco un saludo muy especial para Ma. Del Rosario Cruz que la extraño mucho también saludos para Norma Alicia cruz , Alejandra Cruz para la maestra Ana Rosa Cruz que la haya pasado bien en su día de los maestros también en para Gloria Elizabeth Cruz y también para Karen Guadalupe Cruz estos saludos lo envía Eladio Santiago Del Angel de San Luis Potosí

Manuel Valentin

06.03.2023

hola disculpe puede mandar saludos para esther del angel valencia de un viejo amigo porfavor gracias

Esta bien pero lo k no me gusta k seguidos pasasn a vicente fernandez un dia esta bien pero casi todos los dias psst no aparte que no me gusta como canta

Juan C Jimenez

26.05.2021

Very good

Está muy buena la programación me gustaría que programarán las canciones de Edwin Gutiérrez Oficial como por ejemplo nuestro amor mentirosa ya otras muy buenas

Antonio Alvarez Madrigal

24.02.2021

La mejor radio del mundo ajuaaaa

saludos desde dallas tx saludos para la familia medina de santa cruz de las flores jalisco

Excelente programación

Cesarin Jimenez Leon

22.12.2020

Muy buena

Cristo mis saludos plis
Information about the radio
Somos una estación de Radio ubicada en Zacoalco de Torres Jalisco, llevándote lo mejor de la música hasta tu hogar, y que puedes sintonizar en el 103.1 fm y 1170 am de tu radio.
Radio contacts