Stand with Ukraine. Save peace in the world!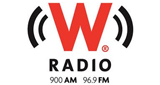 W Radio
En Radio - FM SEB-IP es la estación de radio de difusión Chita John México, Ciudad de México, proporcionando de noticias, deportes y entretemiento.
W Radio reviews
Homero Gonzalez

17.03.2023

we all know you speak english stop it that does not impress

Ya basta Loretito, y no es de cariño, sino por lo pequeño q eres de mente, porque no nos habla de tu riqueza, fundada en el soborno y tus influencias, el país no necesita de tu opinión y periodismo poco objetivo, para seguir produciendo y seguir adelante, sobre todo cuando tu no produces ningún bien, solo produces odio y encono, que mal por los periodistas como tu que trafican con favores e influyentísimo, sin duda debieras estar en la cárcel, porque hoy que tienes libertad de prensa como nunca la tuviste, solo la aproveches en atacar al presidente, todo te parece mal, ningún chile te embona, la vida es corta, dedícate más a practicar un periodismo objetivo, dale gracias a dios que tienes tu vida económica resuelta, aporta, suma no restes, ya por favor.

Buenos días; para una denuncia sobre COLFONDOS….. con Daniel Coronel…. Me pueden contactar.

Sobre la super liga , y quiénes respaldan a Florentino, no habrá un trasfondo estadounidense?????

Jose Roberto Castañeda Perez

04.02.2021

Martha de bayle es una persona muy culta y su programa es magnífico!! Gracias por permitirme escuchar tantos temas interesantes!!!

Fran Armando Aguilar

23.11.2020

El farsante y miserable chayotero de loretito... #LordMontajes en el noticiero de la 1pm, W RADIO recogiendo la basura.. No tendrán un mejor personaje para dar noticias?

Carlos me gusta mucho escucharte pero no PONGAS ALCACA NI A NADIE DE MORENA PORFA ponle subtitulos

Raul lopez zurita

14.11.2020

la mejor en noticiarios

El término y etiqueta de histérica ya no se usa clínicamente. Es un peyorativo y más aún en diminutivo.

Juan Carlos Bastarrachea Ortiz

02.08.2020

El programa relativo a Destilados de México, coordinado por Primitivo, con invitados Ana Salinas, Miky, Alex, y Edgar, interesante y bueno ... felicidades ...
Radio contacts
Frecuencia de emisión: 900 AM / 96.9 FM