Stand with Ukraine. Save peace in the world!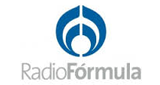 Radio Fórmula
Radio Fórmula (Segunda Cadena) 104.1 FM - Estación que brinda al público espacios con las noticias de hechos relevantes que acontecen en el país, sucesos del mundo, información de la actualidad y segmentos deportivos, shows en vivo.
Radio Fórmula reviews
Antonio Hernandez Melo

09.07.2021

muy buenos noticiarios de Radioformula, felicidades a sus ejecutivos

Jose Corona Alfaro

24.05.2021

Excelente programación

Ramón Santiago Benítez

07.09.2020

Buen noticiero el de Denise Mearker, mucho mejor que el de López Dóriga en el 103.3

Román Bautista Alcántara

03.08.2020

Denise Maerker, Excelente periodista.

Felicidades por este nuevo programa de Derecho a Réplica. Saludos a los conductores.