Stand with Ukraine. Save peace in the world!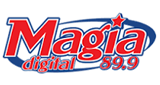 Magia Digital
Estación que brinda variados programas de entretenimiento, diversión e información, con noticieros, segmentos deportivos, la opinión pública, repertorio de éxitos de música mexicana, shows en vivo, difunde las 24 horas.
Magia Digital reviews
Muchísimas felicidades Mayra💖💖💖

Marisol Cervantes

27.10.2022

Excelente programa

Juan pablo Escamilla Arroyo

26.09.2022

aqui en las durasnera somos territorio magia

Omar Cassaball

08.08.2022

Alguien sabe cómo se llama la canción que sale de fondo en los comerciales ???

Que bonito canta Itzia <3

José Luis Rodríguez Díaz

07.12.2021

Felicidades

Todo mi apoyo a Cipriano Nevarez y Miguel León, vamos por Tlajomulco 😃👍👍

Yolanda Benitez

10.04.2021

Es verdad lo que dice Miguel León Corrales

Enrique Valenzuela

10.04.2021

Miguel León un hombre honesto con experiencia a la par con un gran ser humano que es Cipriano Nevarez la mejor opción para gobernar Tlajomulco ..PT ...todos lo apoyamos .

Miriam Fajardo

10.04.2021

Cipriano Nevárez y Miguel León ¡Todo el poder al pueblo!