Stand with Ukraine. Save peace in the world!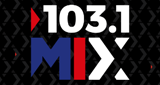 103.1 Mix
103.1 Mix transmite las 24 horas del día desde la ciudad León, México. Su programación está dedicada para un público joven, adulto contemporáneo y todo aquel que disfrute de la mejor música pop en inglés y español de todos los tiempos. Aquí el radioescucha podrá escuchar un repertorio musical compuesto por música pop en inglés de los 80's, 90's y los temas más solicitados de hoy en día.
103.1 Mix reviews
Sebastián Guerrero

30.05.2023

Era muy buena está estación, ahora me la paso en la LG la grande por que ustedes la regaron

Toño Ramírez Herrera

04.03.2023

A mí sí me gusta esta programación en español , pero hay unas canciones que no empiezan del mero principio, que corrijan eso pero felicidades a Grupo Acir en León.

Lucy Rodriguez

02.03.2023

me gusta esta música, por que ya muchos la han olvidado

estraño toda su musica que pasaban por que mi cancion que solia escuchar no la encuentro

Luis Mauricio Lopez Jaramillo

25.02.2023

Que mal que cambiaron las canciones que antes pasaban las nuevas qué hay están bien feas con todo respeto.

Que mal que quitaron la programación en inglés y la de ahora que según leon necesita amor no tiene nada de amor esa estación, al contrario es música depresiva que te baja la energía y te pone toda melancólica muy mal ustedes.

Por qué cambio??? Era muy buena 😭

Que pasó ¿?

DIANA BERENICE ESPINOZA RAMOS

15.02.2023

Porque la cambiaron tan así??? De verdad estoy llorando era la estación perfecta y se fue a la mrda 😭

Pésima decisión cambiar la programación de de años, por aquella qu uno les escuchaba. Así sin más, también sin aviso, como están haciendo, perderán a sus radioescuchas, una lástima verdaderamente.
Radio contacts
https://www.instagram.com/mixfm_mx/
Time in León: ,