Stand with Ukraine. Save peace in the world!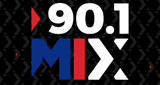 Mix 90.1
Escuchá en línea música POP en inglés de los 80, 90 y actual. Una estación de Grupo Acir. Líder Nacional en Radio. XHENOFM
Mix 90.1 reviews
Alfredo Sandoval

21.08.2022

Me encanta toda la selección de música, la mejor! 💯

christian fiore

14.08.2022

muy buena emisora saludos desde Colombia :)

Yanely Elisa Sanchez Reynoso

22.07.2022

Excelente tarde me encanta la programación

Miguel Bastida

27.10.2020

excelente estacion. recuerdo cuando vivia en toluca. no saben que paso con brisa gonzalez? o donde quedo

Denise Villavicencio

29.04.2020

Es la mejor estacion de los 80s y 90s la amo

podrías poner la canción die young de Kesha por favor

Hola oye un favor puedes dedicarle una canción a una chica linda y muy hermosa que se llama diana Laura la misma que está aorita porfavor y que le digas que la quiero y la amo mucho. Grasias

Jarocho del carmen

05.08.2019

Excelente estación de radio. La escucho todas las mañanas de lunes a viernes, me gusta como Alex e Iñaki llevan de manera crítica y amena, con un diálogo muy puntual.
Radio contacts
https://www.instagram.com/mixfm_mx/