Stand with Ukraine. Save peace in the world!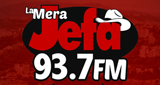 La Mera Jefa
Estación de Radio perteneciente a RSN, El Grupo mas fuerte de Comunicación, Transmitiendo para todo el Estado de Sinaloa en las frecuencias 93.7 FM y 680 AM.
Show more
La Mera Jefa reviews
La mejor radio de mi querido guasave saludos desde Acapulco guerrero

Saludos a sinaloa de leyva, desde boise idaho.

Basilio Bautistabasilio1955bb

30.05.2023

Buenísima la escucho todos los días en Medina OH U S A me llamo Basilio y si se puede saluden a mi esposa Ramona en San Pedro el ranchito bendiciones

Jorge castro Castro

14.03.2023

Saludos a las tatemas sinaloa de Leyva desde bakersfiel california

Felipa Sanchez

04.02.2023

Tengo tiempo escuchando la radio

saludos al DJ mas nalgon, DJNAVARRO <3

Jesus Jose Lopez Ochoa

02.12.2022

Saludos del mirage Arizona del chuybarman8A puro guasave

¡Gracias por la trasmisión diaria, es muy amena!

Algonoderos de Guasave los AMO, pierdan o ganen los AMO!!! PIERDAN o ganen!!!

Leonel Cardenas

08.01.2022

Saludos desde Denver colorado, apoyando a la distancia , un saludo a la nina nico de orba Guasave sinaloa ! Saludos barito 😛 puro algodoneros ! Excelente narración
Information about the radio
XHEORO-FM is a radio station on 93.7 FM in Guasave, Sinaloa. It is operated by Radiosistema del Noroeste and known as La Mera Jefa with a grupera format.

XEORO-AM 610 received its concession on January 28, 1964. The 1,000-watt daytimer was owned by Óscar Chávez Castro.

XEORO migrated to FM in 2011 as XHEORO-FM 93.7.

Despite being owned by a member of the Chávez López family that owns Grupo Chávez Radio, XHEORO is operated by Radiosistema del Noroeste. In June 2016, the IFT approved the transfer of the XHEORO concession to Grupo RSN de Guasave, S.A. de C.V.
Radio contacts