Stand with Ukraine. Save peace in the world!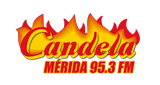 Candela
La Nueva Candela 95.3 FM cuenta con un formato de música TROPICAL-GRUPERA, siendo la estación #1 en rating global en todo Yucatán.
Show more
Information about the radio
Gracias a la consolidación de los mejores locutores del ámbito grupero, a su excelente barra de programación y a la estrecha relación con todos los grupos nacionales y locales, Candela FM se convierte en la mejor estación de Yucatán.

Transmitiendo con una cobertura de 120km a la redonda, Candela abarca el segmento de mercado objetivo de nuestra ciudad y sus alrededores junto con nuestras estaciones hermanas en Valladolid y Tizimín.
Radio contacts
[email protected]

Teléfono Cabina
(999) 924 73 28

Mensaje a Cabina: Escribe las siglas MH seguido de tu mensaje y lo envías al 30500

Correo