Stand with Ukraine. Save peace in the world!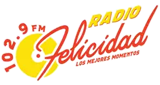 Radio Felicidad
Disfruta los mejores momentos de la música las 24 horas del día en RADIO FELICIDAD, la mezcla musical perfecta de La Época Dorada del Rock and Roll.
TOP songs on Radio Felicidad
Radio Felicidad reviews
Gabriel Barriga Mandujano

26.05.2023

Me gusta mucho la estación, yo la escucho en el centro de tacambaro mich. Con mis audífonos mientras tomo un café,en las tardes pero creo que hace falta una locutora cómo la que estaba antes pero que pueda haber una forma de contacto por WhatsApp para enviar mensajes y que la locutora los lea porque la que estaba antes solo decía lo que ella quería decir y no había manera de hacer comentarios, es una lastima porque falta interactividad con la audiencia, de lo contrario podríamos solo escuchar música sin radio.

Gonzalez silva Jesus francisco

28.11.2021

Son de ayer y hoy

Cesar Sergio Garcia Hernández

10.11.2021

Aqui en la Federal Burocratica de Huixquilucan se, escucha muy bien la estación y me gusta más la calidad que la de am 1180 y muy buena programación

Muy poco expansión de señal, solo se escucha en. La cdmx

Abraham Legorreta

03.02.2020

Muy pobre la señal....... lastima d programación..... difícil apreciar en el auto .valle d Toluca :San Mateo Atenco , Lerma....

Roeh Enrique González

20.12.2018

Tendrán un número de teléfono para contactarme con uds?
Radio contacts
https://www.instagram.com/radiofelicidadmx/