Stand with Ukraine. Save peace in the world!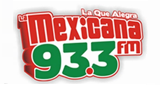 La Mexicana
Emisora que informa los hechos relevantes, acompaña y entretiene con la mejor música de artistas de género top latino como Juanes, Shakira, Chistian y muchos otros, noticias y eventos musicales.
Show more
La Mexicana reviews
Jorge castro Castro

10.03.2023

Saludos a ami hermoso mochis desde bakersfiel california

Veronica Valdez

10.05.2022

Saludos desde Denver colorado a todo los Mochis

Saludos desde biloxi mississippi usa

Monyy Palazuelos

29.12.2021

buen dia victor un cordial saludo , ocupo de su ayuda urgente en verdad el drenaje de mi casa su casa esta tapado ya las aguas negras se salen de los registros ya tengo num de reporte ante japama y no hay respuesta alguna y asi como estoy yo hay muchos domicilio igual aqui en el ejido compuertas es urgente pq esto es un foco de infeccion calle Antonio Eosales poste num 39 Ejido compuertas

Saludos a mi niña chula del km 19 el fuerte sinaloa desde oregon usa y le dedico la cancion, incomparable de julion Álvarez

serafena godwin

06.06.2021

Musica Nueva para tu revista :))

Cupido Te Flechó ..Éxito CODIGO ADS ..Saludos Delmart Trejo

Wenas tardes muchacha, me puede poner la de harry estails cuando estaba en wan direchon la de night changes por fas.

TENGO DÍAS INTENTANDO MANDAR SALUDOS O LLAMARLES PARA MANDAR SALUDOS A MIS VIEJOS Q SIEMPRE LOS ESCUCHAN EN EL EJIDO STA TERESITA SIN D LEYVA.. A MI VIEJO LE ENCATARIA ESCUCHAR LA CANCIÓN CAMINOS D LA VIDA CON LOS 2REALES..ESPERÓ ME PUEDAN COMPLACER PARA ELLOS👨🏻‍🦳🧑🏻‍YO LOS ESCUCHO DESDE OREGÓN.. SALUDITOS Y MIL BENDICIONES PARA USTDS🙏

Eliazar Bonilla

29.08.2020

Saludos desde San Bernardino California
Information about the radio
XHCF-FM is a radio station on 93.3 FM in Los Mochis, Sinaloa. It is owned by Radiosistema del Noroeste and is known as La Mexicana.

XECF-AM received its concession on February 28, 1940, operating on 1410 kHz. It was owned by Francisco Pérez H., sold to La Voz del Valle del Fuerte, S.A. in 1956, and then was acquired by Francisco Pérez Alvarado in 1965. The current concessionaire was created in 1977, and in the 1990s, XECF increased its power to 10,000 watts during the day.

XHCF-FM was authorized in 2010 and permitted to increase its effective radiated power from 4 kW to 25 in 2015.
Radio contacts