Stand with Ukraine. Save peace in the world!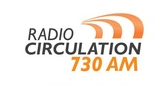 Radio Circulation 730
Radio Circulation 730 AM - CKAC is a broadcast radio station from Montreal, QC, Canada providing Traffic Information, Talk shows and Easy Listening music.
Show more
Radio Circulation 730 reviews
Merci bonne journée à toi..

Marcel Noiseux

17.05.2022

Je vous écoute à tous les jours je suis chauffeur d'autobus alors sur la route toute la journée vous êtes d'un aide précieuse et en passant très jolie guylaine delorme hihi

c est Wellington pas Willington aussi Delorimier pas Delormier. pour les 2 qui font cette erreur.

salut faudrait repeter et repeter au autos camion de metre leur clignotant et a la brunante de allumer leurs lumieres

Sophie Beliveau

27.05.2020

Étant camioneure, vous êtes pour moi un service très essentiel. Quand allez-vous recommencer. De plus en plus de traffic et de travaux. C'est vraiment pas drôle d'arriver et que c'est fermé à cause de travaux.

Jean-Jacques Bélanger

20.05.2020

Bonjour, quand allez-vous commencer à nous informer sur la circulation à mtl.?

Bonjour ce message s adresse M.Paul Houde , je sais que vous avez les aines a cœur et avec raison mais si vous voulez avoir accès a une histoire d horreur qui est la mienne svp me rejoindre a

[email protected]

Sandra Gélinas

28.02.2020

toute l'info des routes a Montréal et autour et même les incident sur les rue principale les info tourne en direct avec pub pour se payer ...Quand tu est prix dans un bouchons dans la voiture tu as l'info de se qui se passe rapidement. Cela m'angoisse moins je ne pourrais me passer de se service essentiel toujours au rendez-vous.....

Je vous ecoute maintenant depuis quelques annees. On ne peut ce passer de vous.

Alain Carriere

11.12.2019

SERVICE ESSENTIEL POUR LES ROUTIERS.
Information about the radio
CKAC est une station de radio AM de Montréal au Québec qui diffuse actuellement sous le nom de Radio Circulation 730 (précédemment CKAC 730, CKAC sports). Propriété de Cogeco Média, elle diffuse à la fréquence de 730 kHz, ainsi que sur internet, de l'information en temps réel sur le trafic routier de 6 h à 1 h (pré-matinale du lundi au vendredi de 4 h 30).

Cette station de classe A diffuse sur la fréquence 730 kHz avec une puissance de 50 000 watts via un émetteur situé à Saint-Joseph-du-Lac qui pointe vers l'est de Montréal.
Radio contacts