Stand with Ukraine. Save peace in the world!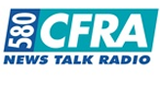 580 CFRA
580 CFRA is a broadcast radio station from Ottawa, Ontario, Canada, providing News, talk, sports, Informative and educational programs.
Show more
On the air 580 CFRA
| | |
| --- | --- |
| Live | 67's ReENTRY - 2 |
| 19:52 | 67's INTERMISSION ReENTRY |
| 19:48 | BOTTOM HR NEWS INTRO - Generic |
580 CFRA playlist
580 CFRA reviews
John McKennirey

20.02.2023

I used to be a listener but Bill Carroll's insults towards the unvaccinated made me not listen.

Carol Anne Marleau

14.04.2022

Just wondering why Trudeau is still punishing the unvaccinated. I am fully vaccinated.

Margaret Deochand

24.02.2022

Jughead and his taxing the wealthy will not work and jihadi trudeau calling this snap election I say we boycott it 🤡😈 but then again it's all his Islamic people will vote him back in

The uneducated are not qualified to run a country. Look at Afghanistan. Nobody voted for scofflaw "truckers" or their anarchistic, radical instigators in the last election, who, most likely, don't even bother to vote anyway. Remember, too, that 90% of hard-working truck drivers rejected the disgruntled 10% who caused damage to the economy.

cynthia belaire

15.02.2022

Love Bill Carroll & Christy.Sad people have to be so mean.

Leslie you are corporate fake news joke. Laughing at the truckers , when you do that you are laughing at We The People. You are are worse than CNN.

The local media, the Liberal media have done nothing but make stuff up, they have blown insignificant things into giant nonsense. It's all BS Propaganda

The lady interviewing the trucker on the radio kept interrupting him, so annoying. The only way to end this protest safely is to end vaccine mandates for cross border truckers now!

The bullshit radio! You people are not reporting the truth

CFRA used to be a "News Talk" station. People freely called in and could at the very least express an oposing view. Bill Caroll is the worst thing to ever happen. His vagrant one sided point of view is exactly the reason why I tune out. He has his opinion, but refuses to accept call and only reads out text messages after they have been vetted for him. Clearly on PAR with Trudeau.... afraid of an actual conversation.
Information about the radio
CFRA is a conservative talk radio station in Ottawa, Ontario, Canada, owned by Bell Media. The station broadcasts at 580 kHz. CFRA's studios are located in the Bell Media Building on George Street in the ByWard Market, while its 4-tower transmitter array is located near Manotick.
Radio contacts