Stand with Ukraine. Save peace in the world!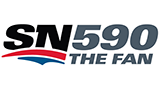 Sportsnet 590 The FAN
Sportsnet 590 The FAN - CJCL is a broadcast radio station in Toronto, Ontario, Canada, providing Sports News, Talk and Live coverage of sports events. CJCL is the home of the Toronto Blue Jays, Toronto Maple Leafs and Toronto Raptors.
Show more
Sportsnet 590 The FAN reviews
Marcello Barraza

25.09.2023

where do i find the J.R podcast i cant find it

Top-notch

love the play by play

love the talk show and play by play announcing.

Steve Sfyridis

12.08.2023

Good coverage of the Jays too bad the team offence sucks.I will be shocked if they actually make the playoffs with the current management and players.

Five star great station and great personalities on here from London ont Canada mainly listen to your station for the Blue Jays games,

I miss Bob McCowan and his call in time period! I wish the present shows could dedicate much more time to hear from the fans! Your "experts" over analyze topics, and "over-kill" is all too common! John Cowles

Love 32 Thoughts, someone needs to tell Elliotte to STOP talking over Jeff Marek. Not sure if Elliotte's phone needs an upgrade to remove the delay?? Great show otherwise.

Well Kipper thanks for jinxing the Bruins. You and Bourne before the playoffs started talked about whether it would be the Lightning or Leafs playing the Bruins. I was beginning to wonder if the Bruins had a bye into the next round. Just so you know the Leafs play the Florida Panthers, hopefully you acknowledge the Panthers on Monday

PERRY Crandall

09.04.2023

I only use this station for Jay's games. As far as the guy saying this isn't live radio, you must have been listening to a re-broadcast. Same thing as a rerun on TV you moron. I find these guys have more information than Buck and the TV crew.
Information about the radio
CJCL (branded on-air as Sportsnet 590 The Fan) is a Canadian sports radio station in Toronto, Ontario. Owned and operated by Rogers Media, a division of Rogers Communications, CJCL's studios are located at the Rogers Building at Bloor and Jarvis in downtown Toronto, while its transmitters are located near Grimsby atop the Niagara Escarpment. Programming on the station includes local sports talk radio shows during the day; CBS Sports Radio overnight; and live broadcasts of Toronto Blue Jays baseball, Toronto Raptors basketball, Toronto Maple Leafs hockey, Toronto Marlies hockey, Toronto FC soccer, and Buffalo Bills football.
Radio contacts
https://www.youtube.com/user/SPORTSNETCANADA