Stand with Ukraine. Save peace in the world!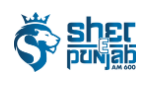 Shere Punjab Radio
Sher-E-Punjab launched the inaugural South Asian programming in the early 2000's. This iconic brand broadcast to the South Asian population in Metro Vancouver and Northwest Washington region. Locally owned and operated in Richmond, BC. It is the most trusted and reliable source for news and information. AND NOW, Sher-E-Punjab Radio is the #1 South Asian News Talk Radio Plus*.
Shere Punjab Radio reviews
prashant singh

04.04.2023

I have been listening Shere punjab radio from the last 2 years from Auckland ,Newzealand , All the hosts are very experienced and knowledgeable but i love listening to Mandeep Benipal as she speaks punjabi very fluent and have the ability of engaging people in her show, Well Done Mandeep 👍Shere Punjab Rocks

Excilent

sticker should be " Yes to "Surrey Police"

Avjinder Sodha

11.10.2022

ਪਾਕਿਸਤਾਨ ਕੋਲ ਐਨੇ ਪੈਸੇ ਹੈਗੇ ਉਹ ਖਰੀਦ ਸਕੇ ਵਾਹ ਉਏ ਗਧਿਓ

Paul Brar's comments are beyond inappropriate. The fact he is still on the radio is telling of the culture of ownership of women that continues to hold back certain cultures from the modern world.

I just want to say Paul Brar is very rude sometimes and behaves unprofessionally while on call with public.

You think some wife/spouse beating is OK? Shame o you! Disgusting host does not represent the punjabi community. Mandeep proved she was abused, she proved her husband did not want girls. If you going to open you mouth, research! Its the basics of your profession.

This what Churchill said about indian politions , Power will go to the hands of ras­cals, rogues, free­boot­ers; all Indian lead­ers will be of low cal­i­bre & men of straw. They will have sweet tongues and silly hearts. They will fight amongst them­selves for power and India will be lost in polit­i­cal squab­ble

Paul Brar show always best.

MA apni kaho to MA 600 sunta he 6-8 ho great job.