Stand with Ukraine. Save peace in the world!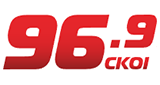 96.9 CKOI
CKOI-FM 96.9 is a broadcast radio station from Montreal, Quebec, Canada, Adult Contempory Top 40/Pop, Comedy and Entertainment.
Show more
96.9 CKOI reviews
Julie Le Guerrier

28.04.2023

On se réveille de bonne humeur!

Je suis un auditeur de Ckoi depuis 30 ans mais je ne suis pas capable de Philo Lirette et Kim Rush.

Le cinquième extrait c'est le roi lion le dernier extrait

Valérie, stp apprends donc a dire les mots anglais adéquatement car c'est une honte pour les oreilles...

Carlos Oliveira

27.09.2022

J'aimerais savoir le doc Sousa ils est de quel nationalité c'est tu portugais?

Polyclinique Médicale Populaire

14.09.2022

J'adore la gang du matin, une belle façon de commencer notre journée :)

Jean-Pierre Paquette

18.08.2022

Merci Super !!!

Seb volti Lalime volti

12.08.2022

La meilleure radio au monde merci lâcher pas

Eriks Dominguez

27.07.2022

j'adore 96.9 radio Merci !!

Mélanie Thériault

19.07.2022

Merci pour votre super travail vous êtes la meilleur radio
Information about the radio
CKOI 96,9 est une station de radio commerciale à la tête du réseau CKOI située à Montréal et diffusant sur la fréquence 96,9 FM. Elle appartient à Cogeco diffusion.

La station diffuse à partir du toit de la tour CIBC avec une puissance de 307 000 watts, soit l'une des stations FM les plus puissantes en Amérique du Nord.
Radio contacts