Stand with Ukraine. Save peace in the world!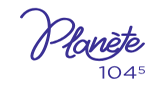 Planète Radio
Planète Radio est un réseau radiophonique créé le 1er septembre 20081 par RNC Media regroupant ses stations qui adoptent un style adulte contemporain et jazz.
Show more
Planète Radio reviews
Maurice Vincent

14.09.2021

allo;

Jacinthe St-Gelais

17.04.2021

jÈme votre musique au chalet l'eté deconnecter de presque tout je vous suis et vous me suivez sans le savoir jour et surtout la nuit je me sens moins seul quand je réentend dans le jour mes musique préférer et cela me fais vraiment du bien merci beaucoup de vos présence c'est appréciééééé :)

Steve Gauthier

13.04.2021

tous les infirmiers (ères) sont obligé avant de commencer leurs cours et même pour être sur la liste d'embauche de passer tous les testes et vaccins, sinon ils ne sont pas admissibles au cour et a l'embauche. c'est quoi le problème pour un vaccin de plus?

bonne musique j"aime

Germain Gravel

12.12.2020

Excellent very excellent

très bien

Réjane Drapeau

13.02.2020

Très belle station merci

Paul-henri Pageau

31.12.2019

NOUS SOMME DE TIMMINS ONTARIO POUR LE TRAVAIL ET NOS RACINE SONT DE QUÉBEC CHARLESBOURG TRES BONNE MUSIQUE YES DES RELLE ET DES CHANSONS DU BON VIEUX TEMPS DE LA FAMILLE PAGEAU XXX

Nacera Younes Alazzouzi

05.11.2019

Très belle musique. Merci

Gilles Taillon

17.05.2019

Je suis très fière de ma radio.jaime les animateurs merci d'être là pour nous divertir à tout les matins
Information about the radio
CFGT-FM is a French-language Canadian radio station located in Alma, Quebec.

Owned and operated by RNC Media, it broadcasts on 104.5 MHz with an effective radiated power of 20,000 watts, using an omnidirectional antenna (class B); it was previously heard on the AM band, on 1270 kHz, with a daytime power of 10,000 watts and a nighttime power of 5,000 watts as a class B station, using a directional antenna with slightly different daytime and nighttime directional patterns in order to protect various other stations on that frequency.

The station an adult contemporary format branded as Planète 104,5. Prior to its conversion to FM, CFGT had an hybrid talk radio / adult contemporary format branded as L'Info Radio CFGT 1270.
Radio contacts
Time in Alma: ,