Stand with Ukraine. Save peace in the world!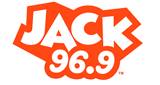 Jack FM
JACK 96.9 in Vancouver, British Columbia, Canada, playing what we want!
Jack FM reviews
I live in Portugal and I haven't been able to stream this for about a year. Please fix this. People in BC flip on a radio, I need the streaming option

Svetlana: If you don't like what Jack radio plays, you can always tune into another station that plays your one-hit-wonders/ flash in the pan boring tunes from the '80's that everyone was glad to see die, too bad not soon enough.

The very best radio station I have ever listened to 5 stars for sure

Happy 2023 from Mattawa, Ont.

Cariboo living without missing my Jack FM!! 100 Mile is listening loud and proud

Svetlana Lopareva

13.11.2022

Poor collection of retro song. I would like to hear Bonny M, Sandra,CC Catch, Modern Talking,ABBA,Ace of Base,Silent Circle, F.R.David and so on. I hope you are familiar.

John & Diane Lukasser

21.10.2022

I live in Terrace, BC and listed to you guys every week day - Monday - Friday. You make it manageable. Thanks

Sharon Gallant

21.04.2022

Interesting 🤓 kind of lol all in good humor it's all good it's grrrrrrreat!!!!!!my dog 🐕 Charlie commodore in chief of the blue stripes of the gallant dwelling place. Hot Rod Charlie it ain easy secret oath nothing to justify it ain't easy oh oh eh slipped on some banana peels and landed on your butts lol you see I have no one I am nobody does my conscious bother me no only reiteration accumulation formulation of intrusion detection and come up with illusions of who you think I am but that is not actually not who I am pretty concertive I am not quite the free spirit that you thought I appeared to be I am not the illusion that you think that I am wow a free spirit me I hardly talk to people

Jhon García Guerrero

17.11.2021

Yessssssss! So good and amazing! Your music is very inspiring and lifts my spirits! Keep in that way... If you change, let it be for the better!

Anita Noseworthy

15.10.2021

absolutely fabulous music this afternoon . A rainy dreary afternoon and evening. You guys have lifted my spirits. keep it UP please.